Hi everybody,
I have decided to gather the team to investigate Donnington Castle in Newbury this Saturday 30th May 2009.
Donnington Castle is a ruined medieval castle, situated in the small village of Donnington, just north of the town of Newbury in the English county of Berkshire. It was built by Richard Abberbury The Elder, under a licence granted by King Richard II in 1386 AD.
It has seen many English wars, and was besieged several times during the English Civil War. All that remains of the castle today is the substantial four towered gatehouse, and the surrounding earthworks.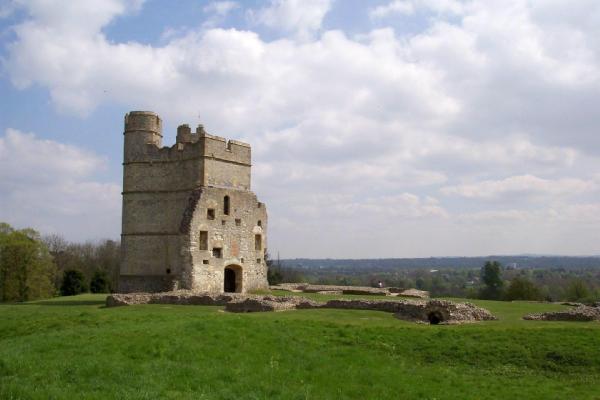 Ghosts of Donnington Castle -
In the 1990's a white dog was seen running down the hill from the castle towards the woods where it vanished into the air.
The gatehouse is home to the ghostly figure of a guard who appears in solid form and suddenly vanishes. A ghostly re-enactment of a Civil War skirmish has also been witnessed in nearby Love Lane.
The ghostly form of 'the Green Lady' (thought to be Lady Hoby) has also been seen by the castle gates. The ghost is said to ask visitors why the gates are closed, before suddenly disappearing.
A group of young campers witnessed the horrifying sight of an apparition of an elderly Royalist soldier with a young woman in a headlock, pulling her hair. Alarmed by this vision, one of the campers bravely shouted out at the Royalist cavalier to "leave her alone"; the phantom soldier then growled loudly and carried on pulling his victim's hair. When the startled group approached the apparition, the soldier stood back, and let out another almighty growl and both figures completely vanished.
G.P.S will be camping in those exact woods, and aim to debunk some of the experiences had by so many.
The Team on this investigation will be:
Barri Ghai - Lead Investigator
Rob Powell - Investigator
Matt Watkins - Investigator & Technical Co-ordinator
Toni Seale - Trainee Investigator
Sheena Prew - Trainee Investigator
John Bedford - Investigator
Bongo - Spiritualist Medium - (TBC)
And introducing NEW Trainee Investigators Steve Sweet and his wife Debbie. Steve is a police office of 10 years, and he and his wife have been investigating locations alone for a while.
As this is an outdoor investigation, suitable clothing for all conditions is advisable and a tent, sleeping bag and food is a must.
I will post more this week, and call each of you to discuss the details.