The BirdCage Public house is one of thames most prominent cartainly most historic buildings
Thames wide highstreet was laid out by the bishop of lincoln in the twelfth century one of the fist buildings erected in the middle row would have been a building used to control & administer the market
The site on which the birdcage now stands in all probability have been this fisrt market house.
The earliest parts of the currant building date from the thirteeth century and building was constructed in phases over the next 100 years the central tow-storey section being the oldest part.
The Birdcage would have been of great inportance to the inhabitants of fourteeth century Thame.
In keeping with other market houses of the time, the lower part would have been open to market traders.
The earliest date for it being used as an Inn cannot be certain , but it would have ben sometime after the erections of the new market hall during the fifteenth cenrury.
In 1780s Edwar Turner was first licensee formally to use the name birdcage in 1787 one of his successors Ann Turner who used the name Bird in the Cage.
During the Napoleonic wars most english towns accommodared French
P.O.W.S and large homes and cellars or attics proved ideal locations.
Therefore Edward Turner who entertained french P.O.W.S in his cellar from 1805
Also used as a hideout and by criminals and thieves to hide stollen goods
The currant lamdlord discovered a ball and chain of the period during recent redecoation.
No account of the Birdcage be comlete without a mention of the ghost of retless soul.
One time landlady Pat Ellis who claimed to have encounted the spirt in the top storey of the pub belived to be that of the leper stoned to death by the people of thame.
Outside the pub
Beer glass have been smashed strange nosies and things moving around dark shadows.
]
[/url]]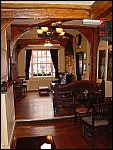 [/url]