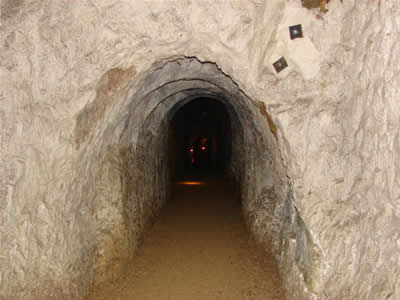 Supposedly of very ancient origin these unique caves were extended in the 1740's by the infamous Sir Francis Dashwood, founder of the notorious Hellfire Club. His aim was to provide an extraordinary addition to his landscape gardens, no doubt inspired by his Grand Tours of Europe and the Ottoman Empire. Many of his fellow dilettantes were building great Estates and landscaping gardens and temples above ground but no others dared venture underground in this way. The chalk was used to build the main road from West Wycombe to High Wycombe. This also provided employment to the Villagers of West Wycombe following a succession of harvest failures. The achievement is a true feat of engineering and quite remarkable considering they were all dug by hand.
On his return from his travels Sir Francis established the famous Hell-fire Club which subsequently held chapter meetings in the Caves and whose members included Lord Sandwich, John Wilkes and other senior aristocrats and statesmen. Sir Francis later became Chancellor of the Exchequer. Benjamin Franklin was a close friend and visited West Wycombe often.
On entering the Caves, long winding passages lead deep underground for over half a mile, through the great Banqueting Hall and past various chambers. In these you will find scenes with various members of the Hellfire Club.
Some of the ghosts that are reputed to haunt the caves are members of the club, a women named Sukie, the legend goes that she went to meet her lover dressed in a wedding gown, but it was a practical joke and she was met by a gang of lads, who stoned her to death, and also strange noises have been heard.