This was taken by Miss Gemma Final using her mobile camera phone at the Hellfire Caves.
I went to the Hellfire caves in Wycombe with my friend towards the end of last year. When we were in there we were the only people there at one point, being our first time there and it being very dark we used my camera flash to get some light by keep taking pictures. When we were in there I kept getting a really horrible feeling like some one was breathing on the back of my neck and like someone was very close behind me, but my friend didn't get the same feeling. When we looked back through my pictures when we got home I found that I have a picture of something that looks like a figure in a long white wedding dress in a doorway.
Does this image show the ghostly apparition of Sukie? Legend has it that she went to meet her lover dressed in a white wedding gown, but it turned out to be a wicked practical joke and she was met by a gang of lads, who stoned her to death.
This was submitted in the 'Image of the Month' competition. Does it deserve to win? You decide...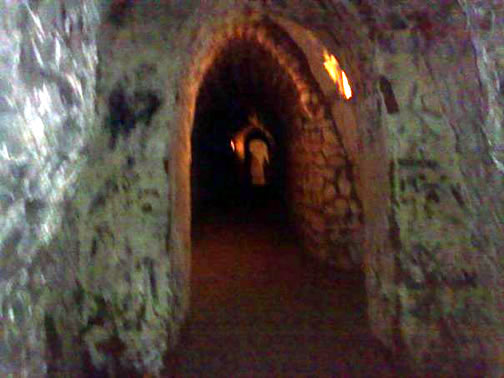 Here is the link to her original image uploaded into Photobucket
Original Image uploaded on Photobucket